Re-Mineralizing & Desensitizing Gel - Bioenamel | Prevest DenPro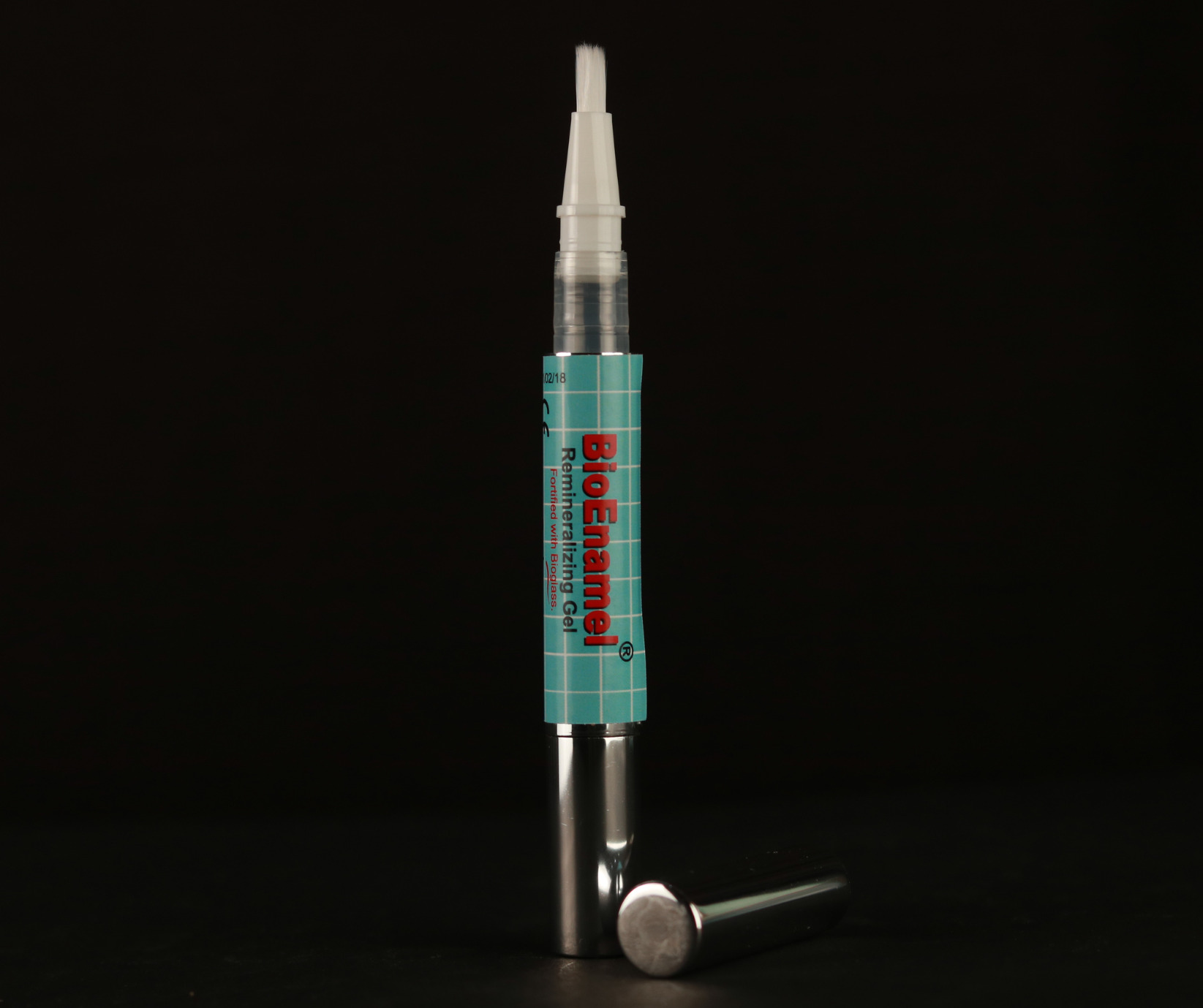 Re-Mineralizing & Desensitizing Gel - Bioenamel | Prevest DenPro

Bioenamel Product Description: Re-Mineralizing & Desensitizing Gel BioEnamel is a re-mineralizing gel which reduces post whitening sensitivity and effectively enhances the re-mineralization of the enamel.
Bioenamel Composition: Glycerine, Potassium Nitrate, Bioglass, Carbopol.
Bioenamel Indications:
♦ Remineralization of de-mineralized tooth structure.
♦ Post whitening sensitivity.
♦ Sensitivity caused due to non-carious lesions and sensitivity after oral prophylaxis.
Bioenamel Instructions for use:
♦ Bio Enamel is presented in a convenient dispenser pen with paint on brush for easy application. The gel will be dispensed on the brush tip by gently rotating bottom of the pen clockwise. First time use requires additional rotations for the gel to appear on the brush tip.
♦ Brush your teeth each time before applying BioEnamel. BioEnamel is more effective on clean teeth.
♦Apply a small amount of BioEnamel in a thin layer and cover the entire area under treatment.
♦ Avoid lips from contacting teeth for 30 - 60 sec.
♦ Leave the BioEnamel on the tooth surface and avoid rinsing, brushing your teeth for 4 to 6 hours.
♦ApplyBioEnamel as often as needed.
Bioenamel Contra-Indications:
This product is contra-indicated for use in or by individuals who have known hypersensitivity to any of the constituents of the products.
Bioenamel Shelf Life: 3 years from the date of manufacturing.
To see our full range of products: Click Here
Related Keywords: Bioenamel, Bioenamel composition, Bioenamel indications, Bioenamel instructions, Bioenamel price, Bioenamel online, Buy Bioenamel, Bioenamel prevest denpro, Bioenamel price online, Re-Mineralizing & Desensitizing Gel